The company This Works is rather new to me.
I have never tried anything else from them and also I haven't had much luck with similar products until now. I am so looking forward to trying more things from them as the brand seems to be really good and has won some pretty big awards! Anyway, here are my thoughts about their Deep Sleep Pillow Spray.
In my humble opinion, this product is really worth all the hype around it. I can't say enough good things about it. It just works!!! It really does. I don't know what it is exactly, but it makes me relax and fall asleep so much faster.
When you have anxiety (stressful time) or you just struggle to fall asleep at night – this will be your best friend. I first got the chance to try out the little sample of the natural sleep remedy spray and the 5 ml tester lasted me for a while. The minute I ran out of it I knew that I will order a new one ASAP.
I found that they sell it on the Net-A-Porter and on Feelunique site. I ordered mine from the FEELUNIQUE site as they offer a free delivery when you spend more than 10 pounds or more than 15 euros. I think mine cost around 20 euros.
So what does it basically do? As it smells of Lavender and Chamomile (they both have the calming effect on people) it helps you relax and rewind before you fall asleep. As I mentioned it smells of Lavender and Chamomile, although the Lavender scent is much more dominant. It doesn't cure strong insomnia or anything like that (so if you expect the effect of a sleeping pill – this won't be for you). But it is the strongest natural remedy I have found for myself.
After starting using this I really do fall asleep much quicker and feel more awake in the morning. I spray around five sprays our pillows and blanket. That's plenty in my opinion! The bottle I ordered is 75 ml, so will probably last me for few weeks.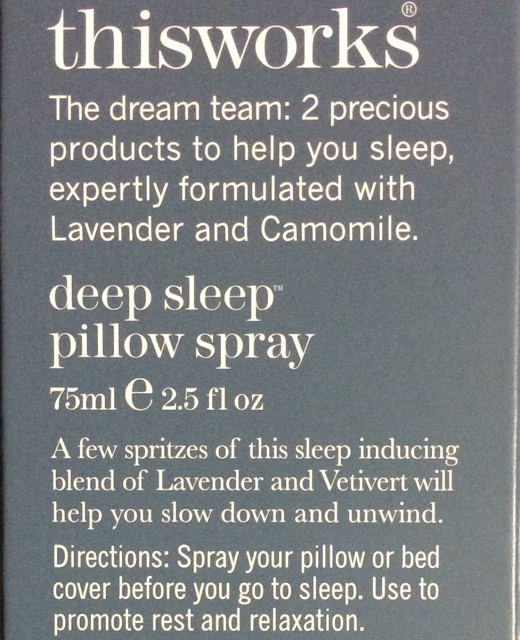 Ingredients: Aqua, Polysorbate 20, Parfum, Lavandula Angustifolia (Lavender) Oil, Pogostemon Cablin (Patchouli) Oil, Cinnamomum Camphora (Ho Wood) Oil, Vetiveria Zizanoides (Vetivert) Oil, Ormenis Multicaulis (Wild Chamomile) Flower, Extract, Linalool, Diazolidinyl Urea, Geraniol, Limonene, Iodopropynyl Butylcarbamate
So go try it out if you feel it's for you and let me know how you liked it – would be interesting to know!
#thisworks #deepsleeppillowspray