I must admit that I have had my eye on this +NARS All Day Luminous Weightless Foundation for a while now, but for some reason every time I was about to buy it – something stopped me for doing so. I think it was mostly the very mixed reviews I red online. But as it is my favourite beauty brand I kept coming back to it.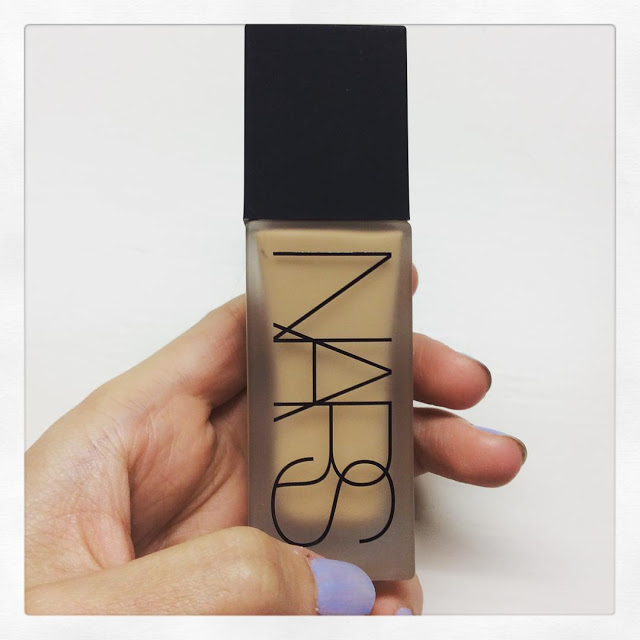 Anyway, long story short, after a very long hesitation period I finally decided to try it out and I am sure most of you would like to hear what I think of it.
As some of you already know (or will find out now), my holy grail foundation for years has been from +NARS Cosmetics  and it's their Sheer Glow foundation.
My winter shade is Punjab and when I am more tanned, my shade is called Stromboli. My skin type is dehydrated yet combination (so basically it's all over the place).
For people who are aware of the MAC shades, I would say that NARS Sheer Glow Punjab is suitable for people who wear (MAC NC 20-25) and Stromboli (NC 30-35).So here is what I think of it – I absolutely love it! Not as much as I love my Sheer Glow, but I would say that it was well spent £32.-!
I am honestly very happy I ordered this foundation as I have recently reaching for this foundation a lot.
Some people keep comparing this with the YSL Fusion Ink foundation, but I think although they are similar, the NARS one is much more advanced and a better quality version than the +YSL Beauty  Fusion Ink. If anyone is interested, I am in the shade B30.The only things I would like to point out are:
You really would need to exfoliate your skin regularly as the NARS All Day Luminous Weightless Foundation can stick to any dry patches
The shades are a bit darker and more yellow based than the NARS Sheer Glow ones. So I ordered two shades, my usual shade Punjab and also a shade lighter Fiji (mixing these two – I get my perfect shade

Shake the bottle well every time before using it
The things I love about this foundation:
+  Looks very natural when you apply one layer, but you can easily build it up to a almost full coverage
+ Good colour match for my skin tone (as I have a very olive/yellow toned skin)
+ Matte finish that looks still a little bit radiant (you skin still looks like skin)
+ Long-wearing
+ It has a pump (I'm so happy, that NARS have upped their game and now add the pump, as Sheer Glow comes without one when you first buy it).
+ Great summertime foundation ( As I am not sure how it would work with cold weather, when your skin tends to be very flaky and dry anyway because of the cold weather.
+ Your skin will still look lie skin after one layer, so people who freckles, it won't cover them with one layer
+ Doesn't feel like anything on your skin, so for those who hate the heavy feeling of some foundations – this is the opposite of that and it also lets your skin breathe
Things I don't like about this foundation:

– It's very runny/watery and if you apply this with your +beautyblender, you will waste a lot of product
– It oxidises just a little bit, you can barely notice it
– That glass bottle is rather fragile yet heavy, so it makes it difficult to travel with it
– You will need more than just one pump of this foundation (Nars claims you ply need one pump to cover the whole face – I seriously doubt that anyone will get away with just one pump of this stuff).
My suggestions when you order it:
Order one shade lighter that you would usually order do with your Sheer Glow Foundation
Apply it with your fingers or a damp Beautyblender for the best results

If you have a extremely dry skin (this foundation is not the best choice for you)

If you can't get your hands on it where you live, try to order it from the +Selfridges online shop – their services are are the best. The delivery charge is 

£

15.-, but it is worth it as my both orders arrived in less that 48 hours after placing an order online.

Shake the bottle really well each time before you start using it
If you have any specific questions – do not hesitate to ask me! 🙂 x